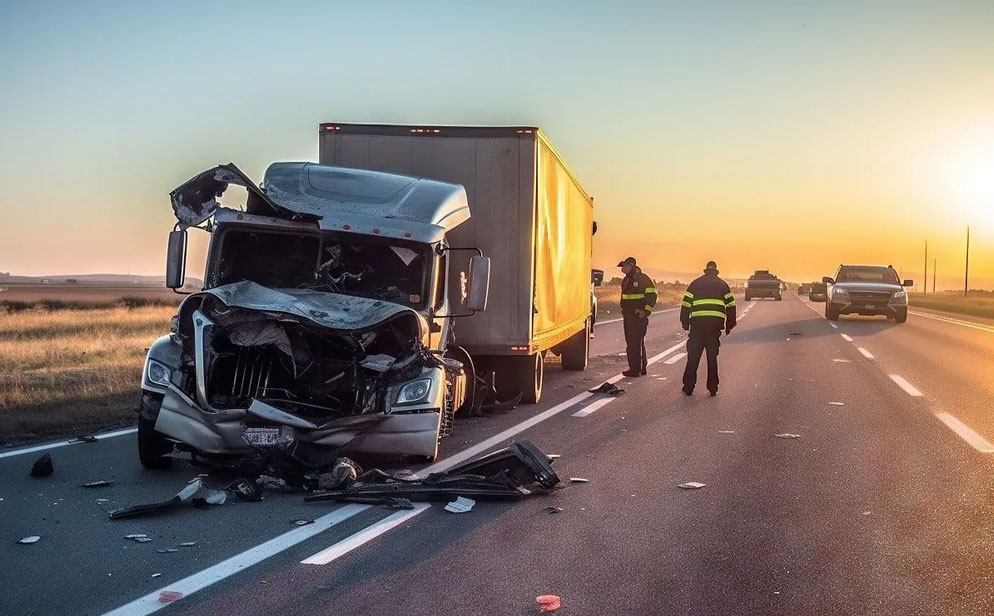 Truck Accident Overview
Accidents involving large commercial trucks can be confusing and difficult to navigate. It can be difficult even to get your property fixed or replaced quickly without an experienced attorney. Don't wait until your situation overwhelms you. Enlist the help of an Orange County truck accident attorney to help you get through this difficult time and maximize the potential for your settlement.
Many times, the hardest part is communicating with the insurance company regarding your claim. Meanwhile, you still have to work, pay your bills, and take care of your responsibilities despite the fact you are injured and don't have operable transportation.
The attorneys at Corrales Law Group have handled numerous trucking collisions for clients and have retained more than $450,000 for one trucking accident victim. Our attorneys make the process of navigating through the legal system easier and provide the legal support necessary to get claims awarded and cases finalized.
Since 2012, the Corrales siblings have defended clients and helped them fight large corporations for justice. Their bilingual legal services are often a light in the dark for clients facing legal issues who can't speak English. The Corrales Law Group, Inc. has handled thousands of cases and is happy to help handle yours, as well.
What Types of Accidents Are Considered Trucking Accidents?
A trucking accident can involve any large or commercial vehicle that is larger than a regular-size automobile. Some examples of automobiles often involved in commercial trucking accidents include the following vehicles:
Big Rigs
Garbage Trucks
Public Buses
School Buses
Commercial Moving Vehicles
Oil Tankers
Semi-Trucks
Tractor Trailers
Livestock Trailers
Poultry Trucks
Oversized Load Trucks
Logging Trucks
Heavy Equipment Movers
Car Haulers
Tow Trucks
Many Others
In most cases, trucks that are involved in wrecks with other drivers are owned by a company or corporate entity out of state. Thus, many trucking insurance companies are from out of state, and sometimes, any claims will involve third-party claims handlers. A lot of times, trucking companies will hire investigators right away to try and minimize their exposure. This is why speaking to a truck accident injury lawyer as soon as possible is so important and can significantly impact your case.
Why Do So Many Truck Accidents Occur?
Truck accidents can be caused by a variety of factors, and when truck accidents occur, in many cases, most of them could have been avoided if it weren't for the negligence of someone involved in the wreck. Some initiating factors that can initiate a truck accident or perpetuate existing hazardous situations are listed below.
Driver Fatigue
Recklessness
Speeding
Improper or Neglected Equipment
Violations of Federal Motor Carrier Safety Regulations
Arrival Deadlines
Over-Working
Drugs and Alcohol Use
If you've been in an accident involving any of the large trucks or vehicles listed above, it is important to contact an experienced trucking accident attorney right away; accidents involving large trucks can lead to serious injuries that may require long-term medical care. Furthermore, trucking accidents are more likely to result in wrongful death or leave victims incapacitated with severe injuries. Speaking to an attorney is the smartest thing you can do, if only to gain insight into the potential of your case if you or a loved one has suffered injuries from a truck accident or if your loved one was killed in a trucking accident.
What Should I Do if I Have Been Involved in a Trucking Accident?
If you have been involved in a collision with a large commercial truck, you should:
Call the Police – It is always better to have a police report on file in order to obtain all important information. If the police cannot arrive on the scene, make sure to take pictures and exchange all important information with all drivers, including company information and license plate information.
Get Medical Attention – Make sure to receive treatment for all serious injuries as soon as possible. Many trucking collisions involve serious head or spinal injuries that require immediate medical attention. If emergency care is not needed or required, make sure to consult with a trucking accident attorney to help with medical care coordination.
Call an Experienced Trucking Accident Attorney – An attorney could help you investigate all responsible parties, have your property replaced or repaired promptly, and obtain compensation for any past and future medical care. Several other claims could be explored by a competent personal injury attorney. Make sure to contact an attorney before speaking to any other driver's insurance company or claims handler.
When to Pursue a Claim When involved in a Trucking Accident
In California, most claims must be filed within two years after any collision. This is the state's statute of limitations for automobile accidents. There are three primary reasons a statute of limitations is established for cases such as truck accidents, personal injury, and other civil cases.
The first reason is to prevent the evidence from being misrepresented, as evidence can go stale after a long time has passed since an event. Involved parties may forget details or remember them wrong, as memories become distorted over time. Also, physical evidence can get lost or tampered with if too much time passes. Defendants can cover up key pieces of evidence if enough time passes.
In almost every case, it is much better to speak with an attorney as soon as possible so that all evidence may be preserved and all responsible parties can be investigated in a timely manner.
The second reason statutes of limitations are enacted is to prevent wrongful claims from being filed under false pretenses, out of spite, or just to take advantage of a situation.
Thirdly, these timeframes prevent claims from becoming long-term cases. The law aims to keep individuals from becoming stuck in legal battles that deplete their resources, time, and right to a regular life.
The Truth About Auto Insurance Companies
Many people mistakenly think insurance companies are in the business of paying out claims that compensate drivers for physical injuries and property damage incurred from an accident caused by an at-fault driver. In fact, the opposite is true. Insurance companies are in the business of not paying claims whenever possible. When they pay out claims, that's less money they have for themselves.
Insurance adjusters are trained to avoid paying claims, and when it can't be avoided, they're trained to negotiate the lowest settlement possible for each claimant. Unfortunately, the average person is not trained to combat insurance adjusters or negotiate settlement amounts. For this reason, millions of dollars in deserving restitution for injured drivers and passengers remain in the hands of the insurance companies.
Most claimants just don't know how to deal with insurance companies because they have little to no experience in doing so, and many people don't realize legal professionals such as truck accident attorneys do have that experience and are essential for potential success when going up against an insurance adjuster.
Furthermore, since many trucking insurance companies are national, a special approach must be taken when dealing with them. Insurance companies will give claimants the runaround at any chance they can, and national insurance companies tend to be even harder to deal with. Claimants are often placed on long hold times, transferred from department to department, and given excuses about receiving information or paperwork from third parties.
To make matters worse, they hardly ever speak to the same representative twice. Sometimes, it can be very frustrating because it feels like it is just too difficult to make any kind of progress with a claim at all. It may feel like their settlement will never be paid. These are the kinds of things a truck accident law firm can help you avoid.
An experienced truck accident injury lawyer knows how to speak with insurance adjusters and can help get your case finalized so you don't have to wait as long. The most useful information to understand if you have been injured in a truck accident in CA is that it is important to hire a California attorney to ensure your rights under the laws of California are protected.
What Insurance Companies Don't Want You to Do
There are some things that insurance companies, in general, do not want claimants to do. First, insurance companies don't want you to hire an attorney. The reasons for this relate to their primary goal of paying out little to no claims for the policyholders they represent.
Without the experience of a lawyer to coach claimants and represent them in negotiations and even sometimes litigation, insurance companies can better avoid paying claims. They do this by citing a loophole that allows them to deny a claim altogether or a case detail that could have been easily defended by a qualified attorney.
Secondly, insurance companies don't want you to know that when they offer a settlement award amount, this is, in most cases, their lowest offer. Most claimants who don't hire an attorney will unknowingly accept whatever amount they are offered because they have likely waited so long that they doubted their claim would be approved, and they feel fortunate to get anything at all.
In Southern California, it is especially important to have a lawyer who is skilled in negotiating with insurance adjusters to represent you in negotiations for your truck accident settlement to potentially optimize your awarded amount.
Insurance companies also cringe when they realize a claimant's legal team is conducting an investigation on the incident in question. They do not want you to hire any professionals to offer their credible opinions on who was at fault for the accident, hire any investigators to determine the probability of scenarios regarding what happened when your accident occurred and who or what caused it, or seek the testimony of a medical specialist to verify injuries.
These things make it harder for the insurance company to deny claims and theoretically increase the amount the defendant could be liable for.
Additionally, the insurance company does not want you to take pictures of the accident, damages, or conditions of the location. What they do want you to do is inadvertently admit guilt in causing the accident. This is why you should be very careful when speaking with an insurance adjuster, or anyone else, for that matter, when talking about your involvement in the accident.
You should always be honest with police officers, but you should never talk to an insurance adjuster before speaking with an attorney or admitting fault to other involved parties. Insurance adjusters are trained to ask questions that can lead to the admission of fault, as well as investigate areas of your life that may indicate information that could exonerate the defendant from being held liable for your damages.
It is also important that you do not allow for the release of any medical records, whether pre- or post-accident. If you are asked to sign a medical release, don't do it. This is another time when having an attorney can benefit you because when in doubt, you can always defer any questions or requests for information to your attorney, who knows how to answer these inquiries without jeopardizing the approval of your claim.
The bottom line when it comes to insurance companies is that they are always looking for a way to minimize the money they pay by undermining your case. Don't let your guard down when communicating with adjusters. Always ask an attorney before you make any statement or provide documents, records, or information to any insurance company.
What Sort of Compensation Is Available Under California Law?
California law provides personal injury compensation for victims of trucking accidents in the form of economic damages and non-economic damages, as well as punitive damages. Compensation is dependent on the claimant and/or the claimant's ability to prove another driver was at fault for the damages they suffered. In some cases, more than one driver involved in a trucking accident can be at fault.
California's comparative negligence law states that even an at-fault truck driver may be at fault for an accident and still be entitled to compensation for damages if fault for the accident is shared among multiple drivers. In most cases, an experienced attorney could help maximize your recovery for several types of claims available under California law.
Types of compensation for the victim of a negligent driver who was injured during a trucking collision can include the following:
Medical bills (payment for past bills and anticipated future bills)
Prescription drugs
Medical equipment and costs for modifying residence for disabilities related to the accident
ER bills
Court costs
Childcare
Rehabilitation
Counseling
Pain and suffering
Emotional distress
Property loss, including all property inside your vehicle, including child car seats
Lost wages due to the collision
Punitive damages to punish a driver in limited cases, such as when the negligent driver was under the influence
Loss of consortium
Physical disfigurement
Loss of ability to enjoy life
What If You Did Not Have Valid Insurance at the Time of the Collision?
If you were involved in a trucking accident and did not have valid insurance or even a California driver's license, it is even more important to contact an attorney as quickly as possible. Generally, under Proposition 213 in California, if an uninsured driver is hit by a negligent driver, the non-responsible driver can obtain compensation to cover any property damage, lost wages, and any medical bills, but they are not entitled to compensation for pain and suffering.
An experienced attorney may help to maximize compensation, especially if driving without valid insurance or expired insurance at the time of the collision.
There are several exceptions that can take a driver out of Proposition 213 and allow them full recovery (i.e., if the responsible driver was under the influence). It is extremely important to talk to an attorney to investigate whether or not Proposition 213 applies in a case.
How Much Will It Cost to Hire an Attorney and File a Claim or Lawsuit?
Our firm works on a contingency basis for trucking collision claims, meaning you will not pay anything until there is a monetary recovery. This means Corrales Law Group will pay all upfront costs of investigations, hiring of experts, retaining all medical records, etc. One major benefit of hiring our firm on a contingency basis is our incentive to obtain the maximum recovery for our clients.
How Much Will I Receive for My Settlement?
The answer to this will depend on many factors, such as the severity of the accident, the percentage of fault assigned to you, the cost of your medical bills, the effect on your income, and other important details of your case. This is what makes every case unique.
To find out how much your settlement could potentially be worth, you should speak with a qualified Orange County personal injury lawyer who will ask you questions regarding the accident and your injuries and offer you advice, as well as a potential estimate on the settlement amount that you may be entitled to if the details you provide are adequate to make a realistic estimate.
If they are not, there may be more investigation that needs to take place before a dollar amount can be put on your personal injury claim for a truck accident. If so, the lawyer will indicate the steps you need to take to move forward with your case.
Tips for Dealing with a Trucking Accident You've Been Involved In
Below are some useful pointers for anyone who has been involved in a truck accident, whether you were injured or are just seeking property damages.
Don't discuss fault
Don't deny you are injured if you are
Don't make any statements
If in pain, seek medical attention immediately
Photograph your injuries
Return to the scene of the accident and take pictures
Locate witnesses and ask them for their phone numbers
Make a written account of everything that occurs
Report your accident to your insurance company
Don't miss doctor checkups, treatments, procedures, or therapy appointments for your injuries
Obey doctor's orders
Don't exaggerate injuries
Hire a reputable Orange County trucking accident attorney
Speak to one of our experienced attorneys today!
Our firm has handled many trucking collision claims and has recovered millions for victims of careless truck drivers. Our goal is to make your extremely difficult situation as easy as possible. Our law group will work to ease your mind and to make sure any person or company that is responsible is held financially accountable. Furthermore, if someone you love was killed in a fatal semi-truck accident, it is imperative that you seek the damages that could be owed to your family for the potential wrongful death of your loved one. Contact one of our dedicated Orange County personal injury lawyers today to speak directly with an experienced attorney about your case!